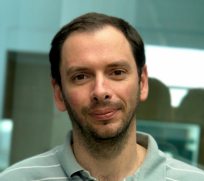 Nuno Otero
Nuno holds a PhD from Sussex University in the UK and he is a Senior Lecturer at CeLeKT and a Research Fellow at the Department of Information Systems at University of Minho in Portugal.
Dr Otero is interested on theories and conceptual frameworks in HCI, from more traditional approaches taking a user centred perspective to more recent trends focusing on user's experiences with technologies. In a nutshell, the question driving my research concerns the understanding of how the properties of distinct devices, computational artefacts and embedded external representations impact on people's activities (from work related activities to educational and ludic contexts). Furthermore, he is also keen on understanding how distinct methodologies suit the investigation of different issues along the artefact design cycle and how the design solutions can the documented and reused by design teams.
Contact info
Website
http://www3.dsi.uminho.pt/nuno.otero/http___www3.dsi.uminho.pt_nuno.otero_/About_Me.html
Latest publications
Daniel Cernea, Simone Mora, Alfredo Perez, Achim Ebert, Andreas Kerren, Monica Divitini, Didac Gil de La Iglesia and Nuno Otero. (2012). Tangible and Wearable User Interfaces for Supporting Collaboration among Emergency Workers. In Lecture Notes in Computer Science: Collaboration and Technology Vol. 7493. pp.192-199
Sollervall, H., Otero, N. Milrad, M., Johansson, D., Vogel, B. (2012). Outdoor Activities for the Learning of Mathematics: Designing with Mobile Technologies for Transitions Across Learning Contexts. Proceedings of the Seventh IEEE International Conference on Wireless, Mobile, and Ubiquitous Technology in Education WMUTE 2012, Takamatsu, Japan, March 27th-30th 2012.
Otero, N., Milrad, M., Rogers, Y., Santos, A., Veríssimo, M., & Torres, N. (2011). Challenges in Designing Seamless Learning Scenarios: Affective and Emotional Effects on External Representations. International Journal of Mobile Learning and Organisation (IJMLO).
Alissandrakis, A., Otero, N., Saunders, J., Dautenhahn, K., and Nehaniv, C. L. (2010). Helping Robots Imitate -- Metrics and Computational Solutions Inspired by Human-Robot Interaction Studies. In J. Gray and S. Nei-Meziani (Eds.), Advances in Cognitive Systems. IET Press, 127-167.
Otero, N., Milrad. M., Santos, A., Veríssimo, M., & Torres. N. (2009). Beyond Rationality: Affective and Emotional Effects on External Representations in Seamless Learning. In Proccedings of ICCE 2009, KONG, S.C., et al., (Eds.), ©2009 Asia-Pacific Society for Computers in Education.
Otero, N., Milrad, M., Vala, A., & Paiva, A. (2005). BeLife: a simulation tool to support learning about photosynthesis and greenhouse management. Proceedings of the International Conference on Computers in Education 2005, Singapore, November 28-December 2, 2005. (pp 853-856).